It seems as if I have been in this line of work all of my life; growing up in the family businesses, obtaining an undergraduate degree in economics (aka supply and demand), and continuing through a series of my own businesses in the jewelry, art, and antique arenas. It is in these businesses and the real estate industry that I learned the importance of customer service. I have always enjoyed learning from teachers, curators, professionals, and scores of customers over the years, and I still do. A lifetime of learning and dedication to customer service composes the foundation of my business philosophy.
I truly enjoy my career. First and foremost it is rewarding to help my clients with specialized expertise.  I enjoy research, which is a large part of the appraisal process. I am motivated by every investigative challenge that comes my way. Being an active member of the professional appraisal community I have developed a network of very smart colleagues who support and assist me on those occasional challenges that may occur. If I do not know the answer, I will take every action necessary to figure it out. Your trust in my ability is extremely important to me, and I stand behind my work and my word.
The photograph above was taken at an educational seminar I attended on silver in July 2012. I was excited to hold this electrotype of the original plate used for the Wimbledon Women's Trophy, especially because my tennis team was headed to the playoffs. Just days after this photo was taken my "sister," Serena, appeared on the cover of Inside Tennis magazine holding her sterling silver version!
University of Memphis
Bachelor of Science, Honors in Economics 1980
Winterthur Institute American Furniture & Decorative Arts
Connoisseurship Program 2014
Museum of Early Southern Decorative Arts
Furniture & the Art of the Carver 2006
American Material Culture Conference 2010 
Middle Tennessee Conference 2018
Colonial Williamsburg Painters & Paintings in the Early American South 2013
Tennessee Decorative Arts Symposium 2016
Gemological Institute of America
Diamond Grading
Colored Stone Identification
Trenton Jewelers School
Jewelry Design & Fabrication
Gemmological Association of Great Britain
Master Gemological Boot Camp 2017
International Society of Appraisers
Theory, Principles, & Methodology Standards
Appraising Antiques & Residential Contents
Requalification 2014 and 2019 
Certified Appraiser of Personal Property 2009
Conferences: 2004, 2005, 2008, 2009, 2010, 2011, 2012, 2013, 2014, 2015, 2018, 2023
Japanese Woodblock Prints 2017
Chinese Decorative Arts 2017
Working With High Net Worth Clients 2018
International Society of Appraisers, Georgia Chapter
Appraisal of Oriental Rugs 2005
University of Georgia, Athens, Georgia
Uniform Standards of Professional Appraisal Practice 2006
15-Hour Class & Exam
USPAP 7-Hour Updates
August 2011, September 2012, February 2014, January 2016, December 2017, November 2019, March 2022
Henry D. Green Biennial Symposia University of Georgia: 2008, 2010, 2012, 2014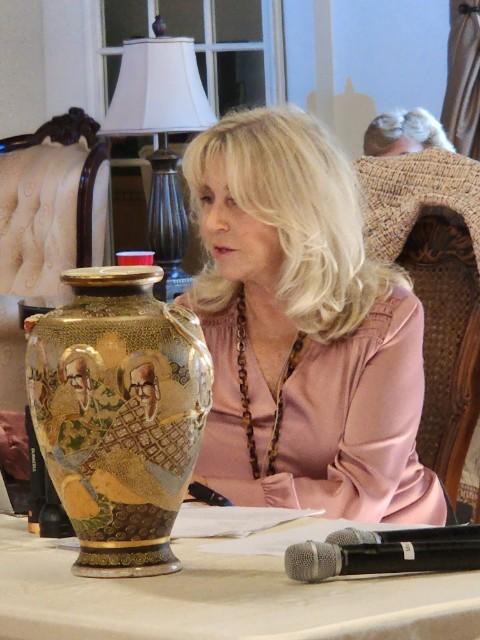 Whitehall Antiques Seminars 2006, 2007, 2008, 2012
Asian Decorative Arts Identifying & Valuing
19th & 20th Century Furniture Comprehensive Study
Barometers & Clocks
Ivory & Similar Substances
Fakes & Frauds of the 19th & 20th Centuries
Barometers & Clocks
Silver: the Modernism Movement
Silver: An Advanced Seminar
Wood Identification
American Federal Furniture
Identifying Oriental Rugs
Appraisal Association of America
Tiffany Glass: Appraising Good, Better, Best 2011
All About Appraising Prints 2011
Silver Study 2013
Brunk Appraisal Seminar 2011
Charleston Art & Antiques Forum
Celebrating 300 Years of Georgian Art & Design 2014
Asian Art & Design in Europe & the Americas 2015
Webinars: 2010-2023
American Society of Appraisers: Restitution of Looted Art 2011
International Society of Appraisers: Art Appraisal Writing 2010, Chinese Export Porcelain 2013, Luxury Watches From Utilitarian to Phenomenal 2022, Chinese Jades Value & Power, Chinese Porcelain Mania Parts l & ll, Leveraging Art Market Trends, Book Appraisal Methodology, Dir of Ed Update 2023
Appraisal Association of America: Using Costume and Jewelry to Date Paintings & Dec Arts, Understanding Lalique Glass & Jewelry, History of Jade,        NFTs 101 2023
Stickley Museum: Pottery of Arts & Crafts Movement; By Hammer & Hand
Gem Academy: Colored Stone Grading and Pricing 2020, Color Trends in Gemstones: Pre, Present, Post Covid-19
Established & Managed Millbranch Pawn Shop, Inc. — Memphis, TN
1980-1988, Upscale Loan Facility
Established & Managed Options Unlimited, Inc. — Memphis, TN
1989-1991, Consignment & Sales of Antiques, Jewelry, & Art
Real Estate Sales, Atlanta Board of REALTORS® — Atlanta, GA
1997-2001 Life Member Million Dollar Club
Goodbuys Estate Liquidators, Inc. — Atlanta, GA
2000-2002, President, Estate Sales of Residential Contents
Established Selma Paul Appraisal & Estate Services — Atlanta, GA
2002-Present, Appraisals & Brokerage
Professional Organizations
International Society of Appraisers Membership
Associate Member, September 2003
Accredited Member, October 2004
Certified Member, November 2009 to Present
Recertification 2014 and 2019
International Society of Appraisers Committees, Taskforces, Offices
Chair, Antiques, & Residential Contents 2008, 2009, 2010, 2011
Education Committee, 2010, 2011
Conference Co-Chair: Nashville 2011, Philadelphia 2015
Website Taskforce, 2009, 2010, 2011
Logo Taskforce, 2011
Interactive Education Taskforce, 2012, 2013
Advertising Expertise Taskforce, 2013
Report Review Submission Taskforce, 2014
Board of Directors 2011-2014
International Society of Appraisers Georgia Chapter
Secretary 2005; President 2006 & 2007; Vice President 2008
International Society of Appraisers Tennessee Chapter
Founding Member 2011
International Society of Appraisers Mid-South Chapter
President 2016
International Society of Appraisers Awards
Service Award 2008-2009
Special Merit Award 2010-2011
Leadership Award 2014-2015